How I Got a Great Work Life Balance: A Case Study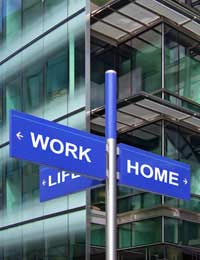 When you start your own recruitment business it can be very hard to achieve and maintain a good work life balance. It's tempting to spend every waking hour building your business – finding potential new clients, new candidates and pushing your marketing – but this is not always good for you as a person.
While it is important that you do put a lot of effort into building your business – after all, it is this tenacity and determination that will help to make your business successful – it is also very important that you maintain a good work life balance so that you don't burn out.
By looking after yourself, you will be better able to have a long term career and long term success with your own recruitment business. Of course, you will expect to put in plenty of hours at the beginning of launching your business, but take advice from the case of Katy Mellor.
Focused on Business
Katy, 34, started her own recruitment agency after growing disillusioned with her employer, a major international recruitment company. She told us, "I decided to start my own recruitment agency because I could see how much money I was making the company and how little I was being paid in comparison! I was happy with my pay packet as a figure, but compared to the commission I brought into the company, it was very little. I also felt that I was being more pushed to hit targets and squeeze unsuitable candidates into jobs, so I thought that if I was my own boss I could earn the same amount but make fewer, more suitable placements."
As Katy was really fired up to start her business and determined to match her salary within six months, she was working twelve hour days. While her business was doing really well, Katy was exhausted and starting to pick up every bug and virus going round.
She continued, "I was so determined to make my own recruitment business work that I forgot about myself for a few months. I was literally just getting up, drinking coffee and smoking all day, on the phone all day and all evening, not seeing any friends and eating ready meals. It's no surprise that I ended up putting on a stone, getting terrible spots and missing loads of parties! After nine months, I was really happy with how my business had grown and I was on target for my financial goals, but I knew I needed to reassess my life work balance."
Making a Plan
It was at this point that Katy decided that she needed to make a more balanced week plan in order to maintain her business achievements but regain her appearance and social life.
Katy sat down and wrote a week plan that took into consideration her work obligations, time for batch cooking from scratch and regular exercise.
Katy said, "I decided that I would try to make the most of my time by multitasking as much as possible. I also wanted to loose some weight, so I thought of ideas that would help. I had really neglected my girlfriends since starting my business, so I invited them round for a regular meal on Thursday nights, which I would make a healthy meal for and make enough to freeze a few portions, too. This meant I got to see my friends and built up lots of healthy home made 'ready meals' too. I also joined a local gym and signed up to a morning yoga class once a week."
You might also like...