Motivating Your Consultants During a Recession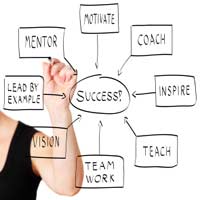 Motivating your consultants during a recession is an important aspect in your ability to stay afloat during a difficult economic climate.
It is worth bearing in mind that you will have your own additional stresses to deal with at such a time, including paying your own bills or having payment issues with suppliers, and indeed so will your consultants. Perhaps their partner has been made redundant or they are having difficulties meeting their bills. And these issues will be on top of the normal stresses and strains of everyday life even when there isn't a recession going on! So it's certainly a difficult time, but one which can actually boost a sense of team spirit if handled correctly.
So how do you handle it correctly? How do you get the right balance between being the boss and being a friend? Or not over-share your own concerns about the business when you need your consultants to do everything they can to help keep the business afloat?
The best starting place is to understand that it's stressful for everyone. Focus on the fact that your consultants, for the most part, will be keen to hang on to their jobs and so will want to do whatever they can to keep the business healthy. If that's not the case, and you'll know if you have any bad apples in your team, a recession is actually a good time to let someone go, although do be careful that you have given the correct warnings or it could end up costing you dearly. At least with the target-driven nature of recruitment it is relatively simple to show that a consultant has not been pulling their weight.
The main problem with keeping positive is that it can be that placements are few and far between at the best of times, with a recession making that all the worse, especially as people are so much more aware of what money they don't have. A normal quiet month or even quarter is usually pretty easily balanced out in a normal economy, but add in all the television and newspaper reports of a recession and everyone gets panicky.
As the boss of a recruitment company, it is your responsibility to keep your consultants feeling as though they can make profitable placements – both for your benefit and theirs – so you will need to quickly implement commercially-viable solutions that allow that to happen. There can be no 'one size fits all' answer to this, but there are certainly a number of options that may be suitable to your business. Here are some suggestions.
Reduce Your Fees
OK, the big one at the top! You may resist reducing your fees for all manner of reasons – it can look a little desperate and you'll be keen to get in as much revenue as possible – but it is a very effective way of making sure you win the business and make the placement. This works best if you allow your consultants some flexibility with their own clients – say a margin of five per cent – so they take ownership and only offer a discount if they feel the placement will not be made without it. There's no need to offer a blanket discount, although it can work as a short term 'special offer'.
Special Offers
Other special offers that you may consider as well as or instead of a fee reduction include reductions on multiple placements, a long fee refund period or reduced fees for temporary staff. You can also introduce more appealing 'temp to perm' fees in order to gain a placement where the client is unsure if they want or can afford a permanent member of staff.
Understand Your Consultants' Drivers
You must remember that the biggest motivation for your consultants is making placements and making money. Regardless of whether you and your business are doing well, they want to look after number one. Recruitment is a money-driven industry essentially so this is no surprise. Don't get carried away with thinking they are particularly bothered about the business as a whole as then if a consultant leaves to go to a competitor you will not be knocked. Money is a big part of recruitment and so if a recession means your consultants are earning less due to placing less, they are likely to look elsewhere, even though other jobs may be few and far between.
As long as you appreciate that your consultants will likely find getting through just as difficult as you will and that they are more interested in knowing how they are going to pay their bills rather than how you are going to pay yours, you should be able to ride the recession as smoothly as possible.
You might also like...