Find Good Advice About Starting an Agency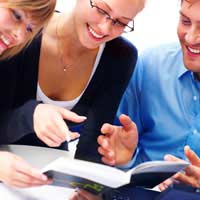 No man is an island, as the saying goes, and starting a business is no exception. There is no reason to think that you are in any way 'weak' or less competent if you ask for help and advice with setting up your own recruitment business, in fact, quite the opposite. You are far more likely to make a success of your new agency if you sought the right advice that can help you excel as an entrepreneur, rather than letting yourself flounder at this stressful time. The help is available if you look for it, so what not take advantage?
Finding the Right Mentor
Having a mentor that you find enthusiastic and inspiring is a very valuable thing – not many new small business owners are lucky enough to find someone that is happy and able to help and who they really click with. If you find someone experienced and encouraging who could be a mentor to you, grab them with both hands and learn all you can from them. For some people, their mentor may be an uncle who has been successful in business, or an old colleague who has seen it, done it and bought the t-shirt. Why not learn from their mistakes? There is no point being pigheaded enough to have to prove them right – while you will still want to take your own chances and make your own decisions, a lot of what they can help you with will have come about from years of hard work.
Government Funded Small Business Help
There is a great deal of Government funded small business help available is you ask for it. The best place to start is with your nearest Business Link office, you can find it in the Yellow Pages or on the internet. You will be given a one to one meeting with a Business Link advisor – they can be helpful or entirely unhelpful depending on who you get, but they are always able to signpost you to other potential areas of advice. You will be able to find out about possible cross-over with other local businesses, or potential clients, as well as find out about funding, marketing and tax advice.
Internet Research
There is no reason to trawl through you local library to find good advice and information now (although they can be quite a pleasant place to spend the afternoon – some have even started to offer decent coffee!) Most people have access to the internet at home now and you can find a great range of advice from all over the globe. It is worth bearing in mind, however, that anyone can post their views on the internet, so it is best to use the World Wide Web as a resource that you then check with published work, rather than relying on the opinions of people on forums.
Venture Capitalist
If you have gained business start up funding through a venture capitalist company, they will be just as keen as you are to make your business a success, consequently they will be a great source of information regarding starting a business, such as advice on writing a business plan, setting up your home office and general business advice.
You might also like...
I would like to get advise on how ti set up a recruitment agency in hospitalityand ccatering industry. Thanks Lindy
Linds
- 4-Apr-15 @ 9:13 PM