Using a Virtual Office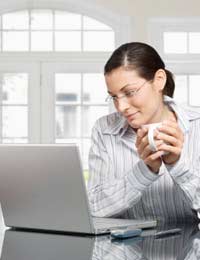 When you decide to start your own recruitment business, don't just leap into renting or buying office space. Not only can it be terribly expensive (not what you need when you have business start up costs to consider) but it can also be largely unnecessary.
With the availability of excellent virtual offices, mail forwarding services and innovative web design, starting a business from your own home office can be a far more cost effective solution, with no loss of professionalism if you do it right.
Facilities
A virtual office can be a very affordable way to present a high quality, professional appearance to your potential clients and candidates. Many virtual offices actually have physical offices that you can use as and when you need to as part of your monthly fee. A key benefit in using a virtual office is that you do not have to give your home address out at all – which can look unprofessional and not present the image you are aiming for, it also helps keep your business and family details separate.
By using a virtual office, you will be able to save on office set up costs such as office furniture, technology and telephony. You will pay a monthly fee to have your mail forwarded and your office phone will be the number of the virtual office. Their teams of receptionists will be trained to answer calls with your company name, as their telephone systems will show which company the caller wanted to reach.
You may also be able to utilise the virtual assistant services they offer, which often include sending faxes, typing documents and diary management.
Professionalism
Having a city centre address for your recruitment business can help a great deal, especially in the early days of your business when you may want to look more established. In some towns and cities, certain addresses are associated with successful businesses, or certain industry sectors, so research what virtual office company is appropriate to your business.
Having a home office can work both for you and against in terms of professionalism – you may be able to offer an 'always contactable' service because you live where you work, but if your young children decide to pick up the phone, unless you are in childcare recruitment it will put of clients and candidates.
Practicalities
If you choose to work from a home office, make sure you have a designated area for work. This is helpful in many ways – you can get in the right mindset by sitting at your desk, rather than using the kitchen table, otherwise it will be harder to switch off when you have a meal at the same table in the evening. You will also be able to leave your paperwork, computer software and diary exactly where you want to, rather than needing to clear away your work every evening just so your family can watch television!
Working from home, with or without the added support of a virtual office, can allow you to both work hard in setting up your recruitment business and spend more time with your family. As long as you make the most of your time and plan your week carefully, you can still take your children to school, have dinner together in the evenings and build your business into a successful operation. Use a family diary to keep track of any appointments and activities and plan your client meetings or candidate interviewing to fit your family schedule.
You might also like...
Hi, I am just in the process of startingup a recruitmentagencyand I am tryingto researchmark-up fees but don'tseem to be able to get the specifics. Any ideas on whereI can find this information? Thank you MissS Turner
turnersj75
- 15-Sep-15 @ 5:53 PM