Joining Recruitment Trade Associations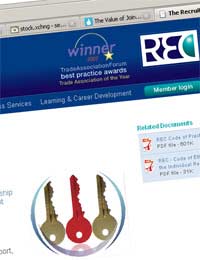 There is only one officially recognised trade organisation for the UK recruitment industry. The Recruitment and Employment Confederation (REC) prides itself on being 'the UK's only professional body dedicated to representing the interests of the UK recruitment industry'.
There are over 8,000 business or agency members of the REC and over 6,000 individual members. Many of the individual members are recruitment consultants who are employed by a recruitment agency as many organisations have completing the REC entrance exam as one of their criteria for becoming a senior consultant.
You may already be a member of the REC if you have completed their exam and worked in a reputable agency for a while. You will be able to transfer your membership to your own agency, although you may be required to complete their latest recruitment exam. This exam includes sections on up to date employment law, best practice for recruitment agencies and rules on recruitment advertising.
Good for Clients
By becoming a member of the REC, not only do you have to ensure your knowledge on the issues mentioned above is totally up to date, which helps you stay focused and informed about your industry, but it can also be a very good quality mark for the reassurance of your clients.
Joining the REC allows you to use their 'quality stamp' on your business cards and marketing literature and you are encouraged to do so. As recruitment can be a very competitive industry, the most agencies work alongside the best practice rules laid out by the REC, the fewer disputes and arguments agencies will have between themselves about who sent a candidates details over first, for example.
When you are starting out with your own recruitment agency, having this quality assurance mark is useful to your clients as it shows that, even as a new agency, you have agreed to operate within accepted industry guidelines, rather than lie about a dud candidate, push them into an inappropriate vacancy and then dash off with your juicy recruitment fee.
Good for You
There is a great amount of support available when you join the REC as their teams of advisors have years of experience in the recruitment and HR sectors. There is an advice line that you can call which offers practical advice for recruitment matters. They are also active in discussing and establishing policy issues that relate to the recruitment sector, so you can have a voice to the government in terms of employment law, diversity and work place discrimination information.
The code of ethics set out by the Recruitment and Employment Confederation is a useful document to have as a reference for your recruitment business as it takes a lot of guesswork out of potential best practice issues. There is access to it on line and you will also be given these documents when you become a member.
You may also find that attending REC events and forums can be good for your business. Setting up a recruitment agency on your own can be rather lonely, so you can utilise the networking aspects of their diary as well as gain valuable information.
You might also like...