Meeting With Clients When You Work from Home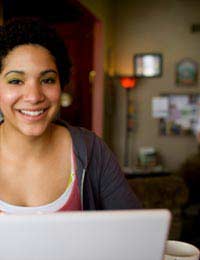 Meeting with clients and potential clients is an important part of building any business, so when it comes to working from home, you still need to make sure that you make the right impression.
There is no point in spending out thousands of pounds to rent office space when you can do the vast majority of work from your home, but when it comes to meeting clients, the sight of your domestic life just won't cut it.
There are two main options for meeting clients when you work from home – either you invite them into your home or you meet them elsewhere. For both options, there are dos and don'ts that help to promote the correct business image that will support your reputation.
Meeting Clients at Your Own Home
If you work from a corner of your bedroom or living room and are building up a professional business such as a recruitment consultancy, PR company or sales, where you don't want to shout about the fact that you're sitting in your pyjamas when you speak to clients on the phone, you need to be careful. It's unlikely that inviting clients to your home will give the right impression as it will undermine the image you have been trying to portray. It is best for you to meet clients outside the home.
Alternatively, you could think about investing in a dedicated work space in your home. Bespoke sheds as 'garden offices' are gaining great popularity as they are cheap to build and run and are far more cost effective than building an extension.
If your business is more of a 'home-style' business, such as selling crafts or cupcakes, then meeting at your own home is more suitable, but you still need to be aware that you are putting the correct image across. Try to look at the areas of your home that a client will see by walking through the house. Although some 'homeliness' is fine, dirt, clutter and really personal things are not. Meetings at the kitchen table are fine if everything is clean and tidy (no cat litter trays or bills sitting around!). Have a pot of good quality coffee and homemade biscuits to offer – as long as this suits your business.
Meeting Clients Outside of Your Home
When you work from home but don't want to meet clients at home, you need to think of somewhere suitable to go. Hotel lobbies have long been popular places to meet, but you need to make sure the place you choose is appropriate to your business and the brand image you're trying to build. Don't meet at the nearest budget hotel chain and drink coffee out of polystyrene cups if you're trying to look successful! Similarly, don't go to the fanciest hotel and then balk when the client orders a coffee for £10. Mid-budget hotel chains are fine for most businesses, although trendy boutique hotels are more suited to creative industries.
Coffee shops are also a good place to meet clients, especially as the egalitarian nature of many known brands lets your business do the talking. Just be careful to confirm the exact location of the coffee shop – many important client meetings have been lost because the two people were sitting in different branches of the same coffee shop!
You might also like...
@jo - I'm afraid we do not hold such specific information. However, you can have a trawl through our other articles on the site to do some background research such as Start a Recruitment Agency on Your Own link
here
. Plus, if you do an online search there are some independent companies that offer more specific start-up advice. I hope this helps and good luck.
StartARecruitmentBusiness
- 20-May-15 @ 10:27 AM
I would like to start a recruitment agency for care givers but have no experience in this field. I need some advice plz
jo
- 16-May-15 @ 10:38 AM