Setting Motivating Targets for Your Consultants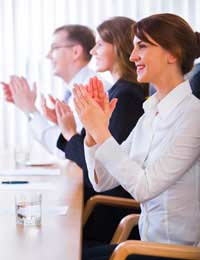 There is no getting away from the fact that recruitment is a highly targeted industry. Even the most niche recruitment agencies need to offer incentives to their consultants, so even if your recruitment business prides itself on perfectly matching candidates with jobs, you'll still have to make sure your staff are motivated – and that usually means financially!
How Often?
For a target to be motivating, and subsequently of value to your recruitment agency, it has to have the right balance of frequency, achievability and reward. It works well to have a number of different targets so that there is always something to reach for, but that it doesn't seem to far away. So, for example, it can work well to have weekly, monthly and quarterly targets all running concurrently so that there can be small rewards that accumulate into something more impressive.
How Much?
A suitable weekly target could relate to the number of business development calls made, the number of client visits made and the number of registration interviews. This helps to make a decent structure for the week as well as having something to aim for. A monthly target would therefore incorporate the results of the weekly targets, and then include more specific aims such as attending a number of relevant networking events, specific meetings with target clients and a certain number of interviews and placements. Quarterly targets would take this idea to the next level and would include more placements, fee negotiations and perhaps an additional target for marketing or business development strategies.
How Motivating?
There's no point just having an annual target that promises a fancy prize for one person as it will not motivate a large team. If it's in addition to a series of other targets it can work well, but not on its own. As a rule, recruitment consultants are young, single and motivated by money, so targets that include money, good entertainment or trips are usually successful. Consider the 'prize' for your weekly targets being dinner or drinks on a Friday night, for example. (If your team does have older consultants or people with families, you could perhaps give a voucher for a decent restaurant or spa).
Monthly targets are often a bit more impressive, but still related to food, drinks and entertainment! Perhaps a more generous voucher or tickets for shows and hotels would be suitable.
Quarterly targets can be really bold with prizes to match, especially if hitting the target means that your recruitment consultants have earned you considerable fees. Remember that you need to reward your consultants fairly – especially the big billers – because it doesn't take a genius to realise that only getting the standard 5% of the fee generated is not that generous! As the recruitment company owner you need to reward your staff as it will cost you far more to train someone new if your best consultant gets frustrated. Agencies have been known to give trips to New York, fancy weekend breaks and all manner of 'experience days' as motivating treats for hitting quarterly targets.
You might also like...