The Importance of Branding in Recruitment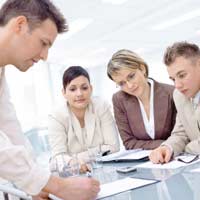 As with the vast majority of businesses nowadays, branding plays an important role in building a recruitment business.
You cannot simply think that you'll be able to say 'we find jobs for people, and people for jobs' and expect clients and candidates to flock to you, or if you do use that line, you need to back it up with something else!
What is Branding?
So how do you decide on your branding? And more to the point, what is branding anyway?
You may think that you know what branding is if you know some famous brands, but building a brand and making it a valuable addition to your business is a whole different ball game. Branding is what your business stands for, what customers (whether that's clients or candidates) think of when they think of your recruitment business. Now, much of that 'customer perception' is created by you - the owner of the business. You can of course pay a branding or creative agency to conjure up your brand image, but you still need to know what you stand for and what type of business you want to create, so it is certainly worth taking the time to decide what qualities are important to you.
As a recruitment business, there is constant branding that will always appeal to your customers. For clients, these qualities tend to be being fair with your fees (no one wants to feel ripped off), being quick to respond to new vacancies (after all, if you can't fill a job quickly they'll go somewhere else), having a steady stream of suitably skilled and qualified candidates (clients don't want you to send unsuitable people for interview and waste their time) and being easy and professional to deal with (no tantrums or constantly going to voicemail).
For candidates, perhaps the most important quality is to promise to keep them in the loop - recruitment consultants and agencies have a terrible but not entirely unjustified reputation for not calling candidates back when they've applied to a job, or gone for an interview, which is not only very rude but also terribly frustrating for the person keen to find work. Candidates also want to know that you will always try to get the best deal for them in terms of salary or hourly rate - there's nothing wrong with saying that the better the salary the higher your fee, so you want to get it as high as possible, but don't go negotiating too hard and lose the job.
What are the Qualities of Your Brand?
But what about the qualities that will make your recruitment brand unique? It's all well and good to do the right thing by your clients and candidates, but you've also got to have a little something extra about you, something that will immediately identify people with your brand. Think about it, ask yourself what you feel you do over and above a 'standard' recruitment agency - it could be that you have a strong career history on the 'client side' in your industry and you will now only recruit for that specific industry, or perhaps you offer one-to-one interview coaching for each candidate, or maybe you could specialise with getting women back to work after extended maternity leave...don't try to be 'all things to all people'.
Once you've defined what you do differently, you need to think about a style of presenting that difference to the market. So, if you're focusing on getting mums back to work, your branding is likely to be more female-focused and supportive than an agency that specialises in headhunting for the City. That's not to say that you should patronise your potential customers, or simply revert to the 'traditional' type of branding for your chosen sector of recruitment - many companies that have chosen to do things differently actually do far better than their more 'obviously branded' counterparts.
Take Expert Advice
With all this information to hand, the next best step is to consult an expert. You don't have to pay a fortune for branding advice, but we've all seen flyers or advertising for a business or service where it's really obvious it's been 'home made'. This does not look quirky and cool - even the brands that try to look home made have had an expert contrive it that way. Unless you (or a family member or close friend) is a professional graphic designer, copywriter or creative consultant, it's worth paying for advice before you shell out for brochures, a website or any headed stationery. It'll be tax deductible too!
When you have your branding all ready to go, you'll be amazed at how ready you feel to 'sell' your business. Think of it as suitably dressing your business to be launched on the market - how much better and more professional do you feel when you're dressed appropriately for a meeting? It will more than pay for itself as you quickly win new business and build a reputation that suits your business objectives.
You might also like...