Create a Legal Contract with Your Consultants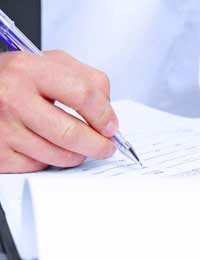 Before you start fighting, get it in writing, as the popular lawyers saying goes. Starting your own recruitment business is no exception. You may believe that your consultants are all totally trustworthy with only your best interests at heart, but the truth is that situations can change way beyond your expectations, so you had better get some legal frame work in place before things get difficult.
The most common cause for arguments or difficulties between a small business owner and their staff is when an employee decides to go it alone. They may have been perfectly happy ticking along for years, helping you build up their business and taking their (relatively small) cut of the recruitment fees their hard work earned. After a while, the entrepreneur in them will start to think that they can do this for themselves – much like you though when you decided to set up your own recruitment agency. It is the natural order of things for the best consultants, so rather than complain or be surprised, just protect yourself with the correct legal documents. That, and pay your consultants a decent percentage of their fees!
Getting Legal Advice
Good legal advice from a law professional does not need to cost a fortune. There are actually a number of excellent websites with standard legal templates for a series of common situations. You can also get excellent small business information from the Business Link site, a government run advice portal for a whole range of issues.
You will benefit from having a good support team around you when you set up your own recruitment agency, including a lawyer and a good accountant, so you may as well find a suitable person at the beginning of your entrepreneurial adventure. You can start by asking local small business owners who their accounts are, or by attending a local networking meeting. You may be advised on lawyers and accountants by your business bank manager, but do remember that they may get some commission from their recommendations.
Talk to your Consultants
Once you have established a place for obtaining the information you need, talk to your consultants. You may only have one consultant for a while, as your business grows, but you still need to establish proper legal contracts way before you have any difficulties. When all is going well, you are more likely to be able to agree to fair terms of business as their will be no additional emotional issues at play.
Remember your Own Experience
The majority of new recruitment agency start ups are by experienced consultants, leaving the employment of an established agency. Think about what you did, how you felt? Were you frustrated at having to make a certain number of business development calls, when the quality of them didn't get noticed? Where you annoyed that you had to return to the office after a really great client meeting near your home on a Friday afternoon? Address these issues, make sure your consultants feel valued and that working for your agency gives them new benefits.
You might also like...