A Day in the Life of a Recruitment Agency Owner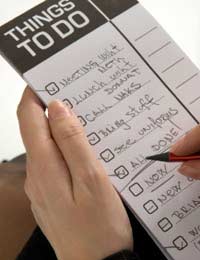 Starting your own small business means that you have to do the things you are no so good at as well as those you flourish at. Until you are able to afford to pay other people to do them, you will have to get to grips with all aspects of running your own recruitment agency.
As an entrepreneur employment agency owner, you may find that there is never an 'average day' in your life – one minute you are the high powered business owner, representing your company at a client meeting, the next you are the IT guy, sorting out the firewall on your computer.
There is plenty of small business information available to help you through the confusing early days of marketing, accounting and business plan writing – all those tasks that someone else used to do are now your responsibility. Once you have come to terms with this, starting your own business really is terribly exciting. Make sure you make the most of the available small business resources and you will soon be able to multitask better than you ever thought possible!
Morning
Most recruitment businesses operate from around 8.30 am until 6pm, with many temporary recruitment agencies starting earlier if they provide an immediate start service. Often these agencies will recommend their available temps come to the office in case of an immediate start.
Each morning you will need to consult your monthly to do list and your weekly to do list, and then write yourself a plan for the day. Try to include a new client visit, at least one registration interview and some time for business development telephone calls.
Try to arrange any client visits at the beginning or the end of the day, so you do not waste time out of the office travelling. This is a stark contrast to when you were employed and would spend as long as possible out of the office! Now it is your own business you will need to invest every spare moment in growing your business.
Lunch Time
Make sure you do take a lunch break, even if those early days of building your business. You will not be able to be at the top of your game in the afternoon if you do not eat a proper balanced lunch. This is also a good time to meet clients, especially those you are keen to build your rapport with. If funds allow, take them out for lunch, if not, be inventive! Offer to meet them in the park with a picnic, or take a sandwich to their office (take one for them too and make it a good one! No 'value' offerings as it will reflect badly on your business.)
Afternoon
Use the quite time around lunch to do the practical tasks required in your office, or complete meetings unrelated to new clients or candidates – bank managers, website designers or whoever.
After 2pm, you will be able to really make the next couple of hours count as they are usually when most clients are available and receptive. Don't use this time to interview candidates – unless they are great candidates and cannot make another time. Arrange to interview candidates at the beginning or end of the day - it usually suits them better, anyway.
Evening
Do not try to work too late into the night – if you are at your most effective in the day time, you can spend the evening with friends or relaxing and you will be better able to handle the next day. However, if you have an opportunity to network or interview a great client – grab it! This is your business and you need to put everything you can in to make it work.
You might also like...