Create a Legal Contract with Your Clients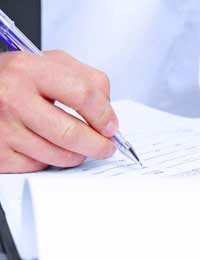 The terms of business that you agree with your clients at the beginning of your working relationship can be very hard to negotiate later. It is far better for you to establish proper a legal contracts with your clients from before your first placement, rather than get into some sort of legal wrangling over fee agreements and placement definitions.
Temporary Contract Agreements
The importance of establishing proper legal contracts for your temporary staff should not be underestimated. The most common problem for start up recruitment agencies is paying their temp staff weekly and yet only getting paid by their clients every sixty days – and often in arrears. While you will have to remain competitive and must take out your precarious financial position on your clients, you are entitled to be paid on time for the service you provide.
What constitutes 'on time' depends on how well written and how water tight your temporary contracts are. The simplest tip is to make sure you include payment terms – you would be amazed at how many businesses do not state how many days payment terms are their standard. This allows you to chase up outstanding payments at a given time, rather than relying on 'good will'.
Be careful to include written confirmation on your holiday pay details, as if a temporary employee decides to claim their holiday pay, as is their legal right, and you have not factored it into your contracts (either through an additional payment, or an increased hourly rate) you will be liable to pay it, taking a large chunk out of your profits.
Permanent Contract Agreements
The key factor in the need for establishing proper legal contracts for your permanent recruitment is the terms of the probationary period of your placements. A common problem is that recruitment consultants focus too much on making the placement and then the messy business of confirming the terms of the placement comes at the end, when they have done all the hard work and don't want to see it all disappear in a cloud of legal paperwork. Consequently, the terms agreed at this point can be far less favourable to the agency that if they had confirmed the agreement prior to starting the recruitment process, when the agency and the client were more equal partners.
Your permanent recruitment contracts must state that you will only give a percentage of your recruitment fee back, in a sliding scale from perhaps 50 % to 10 %, minus an administration charge, if the client paid in full, on time, as stated in the terms of business. Otherwise, you be left with having done all the work to make a placement, waited two or three months into the placement and then just have to give their money back!
Business Practice Agreements
Think about having a range of business practice agreements for your clients and candidates, relating to such details as their interview process, sending prospective CVs out and rules for receiving time sheets to gain a timely payment. You do not want to be too difficult to do business with, so do not ask people to sign things all the time and look like you are too litigious to build a relationship with, but cover your backs and have clear structures in place. You can always say 'it's company policy!'
You might also like...