Target Potential Clients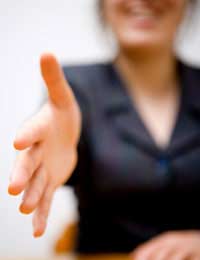 Arranging client visits are one of the key ingredients in a successful recruitment agency. When you set up your own small business in the recruitment sector, you may already have a list of clients and potential clients, but in order to illustrate the change from you as an agency employee and you as your own recruitment agency owner you will need to re-establish contact with your clients.
This means that you will probably have three main types of clients - firstly, the clients you have worked with before; secondly, clients you know of and would like to work with and lastly, potential clients that you do not yet know.
Each type of clients will have their own suitable approach - there is not a one size fits all business development plan when setting up your own employment agency is involved. This may have been the case when you were working for another agency, but when it is your own business and you are competing with well-established agencies, you need to offer something a little more bespoke so you stand out from the competition.
Target Your Clients
Understand which category above each client fits into - think about what you know about them, what service they have appreciated and what you know they want but were not able to offer before. Think about past meetings you have had with them, what jobs they had available, what skills they needed. Target your phone calls and emails to this information.
If you have a client that you would love to work with, let them know. The personal approach is gaining in popularity now as more people appreciate a tailored service.
Build Rapport
Once you have researched your clients and potential clients, you need to try to develop a relationship with them. You want to be seen as an employment partner for your clients, rather the irritant that recruitment consultants are often considered. Be careful with your meeting planning - perhaps take them to a nice coffee shop rather than a corporate environment, if that suits the client.
Make it Easy for them to Say Yes!
The majority of clients will require a temporary or permanent member of staff through a recruitment agency at some point - you need to make sure they recruit that person through you. If you have followed the first two points, it should be getting more likely that your clients are going to say yes to a meeting with you. A good technique is to say that you are going to another meeting on, say, Tuesday at 1pm, so would they be available for you to call in at 11 am? Don't push it to be a major commitment. Maybe a conference call would be just as effective - and be better for your carbon footprint.
Remember that you do not have the same targets now as you may have had when you were working for a high street agency. Every client visit will cost you time and money. You don't have a target of x number of visits per week, regardless of how necessary they are. Make it count. See clients that you want to build business with, but you don't want to come across like the other consultants, be different. If you are more focused on personality, training and career development you will build a more meaningful relationship with your clients.
You might also like...