How to Offer Seasonal Bonuses During Difficult Economic Times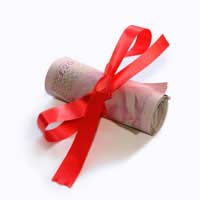 Christmas is expensive enough as it is when you run a recruitment business. Holiday pay for temps, holiday pay for consultants, presents for all your best clients…it all adds up.
But what about offering seasonal bonuses to your recruitment consultants? Although there's no rule that says you have to, giving a gift – even a token gift – to your staff is usually considered 'the right thing to do' especially if it's been a tricky year.
And it probably has been rather a tricky year for most of us. What with interest rates, bank lending and reduced budgets, there's been plenty of costs cut over recent months so there's probably not a whole load of spare cash hanging around just waiting to be spent on fancy hampers.
After all, recruitment consultants are primarily paid on results – the more they earn for you the more they earn for themselves. So if they've made plenty of placements, they're probably pretty happy with their bank balances at the moment. But what if your consultants have worked really hard but don't really have the financial results to show for it? With fewer jobs available, more recruitment consultants chasing those jobs and all manner of good, bad and ugly candidates phoning up every day, it is possible that your consultants can have worked harder than before but be pretty disillusioned with their pay packet.
If you are keen to hang on to your staff (and that is a very real 'if' – if you can't actually afford to keep them on you may not mind it if they leave due to feeling unappreciated and over-worked, but that's between you and your conscience) then now is a good time to show them.
But how do you reward your recruitment consultants enough to make them feel appreciated (especially if your business has had a difficult year or if you were ever late paying them or only giving reduced hours) without going over what may probably be a reduced budget?
What Can You Afford?
First up you need to decide what you can afford. Be realistic and what 'spare cash' is available and ask your accountant what is acceptable in terms of tax deductibility as there's no point being over generous now if you're going to get into a pickle later. Once you have decided a budget, work out how you want to divide it. Will you give your best performing consultants more as you want to encourage them to do the same again next year (even though they will have a more impressive take-home pay thanks to better fee receipts) or would you prefer to reward the consultants who've worked hard but not got the results to show for it to boost their confidence? The latter is far more likely to annoy your best people, yet the former will depress your poorly-performing consultants even more.
Team Spirit
A good way to address all these issues is to do something all together. Unless you love a 'team bonding' session with paint balls and a Saturday spent with 'work people', most people prefer a do that on a week night – and in work time if at all possible. Although this can end up costing you more in terms of 'time spent away from the office', it's amazing what a few 'free' hours can do for team morale.
How about a lunch at a decent restaurant with everything paid for by the company? Unless you have a team of hundreds, this is actually a great way to get everyone together and say thank you for a tricky year. And the beauty of a lunch is that people don't tend to drink much – do say you all have to get back to the office for a bit before home time – and the fancy festive set menus are loads cheaper. A win win situation!
Want to Give a Gift?
If you actually want to give your recruitment consultants a gift as well as or instead of a Christmas meal, try to think outside the box so the cost of the item isn't as obvious as the fact that you took time to choose something suitable for each person. For relatively small teams, a bottle of their favourite perfume or aftershave (send an email round earlier in the year) is a very personal touch that's much appreciated. If you want a less personal idea that still seems a bit fancy, a bottle of Champagne is always a winner – go to a decent wine merchants to buy a suitable amount of cases in good time and you'll get a great deal, or even just keep an eye on the supermarkets' special offers. Add a bow and a personalised card and your team will be ready to work in the New Year.
You might also like...