Make Mailshots Work for You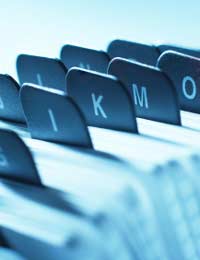 There are four key rules in making mailshots work for you when you start your own recruitment business - helping you save time, money and effort.
Presumably, you don't have bottomless buckets of cash just waiting to be frittered on your latest scheme, so your mailshots really need to be cost effective, especially as you're probably in the early days of running your own agency and cash-flow is likely to be a bit of a sticking point now more than ever.
The four rules are all easy to understand, easy to implement and, most importantly, cost-effective. Here goes…
Effective Content
There's no point going to all the effort of mail merging, franking and posting a mailshot, or even creating an online mailshot, if you're not going to focus on the content first and foremost. Think about who you're trying to appeal to and what the purpose of your mailshot is…are you looking for new clients, new candidates, telling existing contacts about your business…you have to know what you're trying to achieve.
The content has to be carefully checked before you send it out, too. It looks so unprofessional to have a spelling or grammatical mistake on a mailshot, not to mention the overall aesthetic. Get someone you trust – or a professional proof-reader – to check the mailshot in plenty of time.
Make it Targeted
Once you know what you're trying to achieve with your mailshot, you can be clear about who you're sending it to. Even if you're sending out a 'free' online mailshot, it still looks terrible if you send something completely inappropriate to a client or candidate. And please do not send confidential candidate or client details out in a mailshot! You'd be surprised how often this happens.
Make it Timely
So you've decided what you want to say and who you want to say it to…now you need to think about when you're going to say it. As a rule, January and September are very busy for recruitment consultants – thanks to New Year's resolutions and holidays making people think about their dissatisfaction in their current jobs. It's also true that just before these juicy busy times are often painfully slow times – people hold out for the Christmas party, perhaps a bonus and enjoy the slowness of December, or they're waiting for their holiday in the sun.
Monitor the Response
After all that trouble are you really not going to do anything worthwhile with the responses? Assuming that you've followed the above rules, your phone should be ringing red hot and your email inbox should be stuffed with great candidates and clients that want them. So don't go on holiday or take a duvet day now, please! Get prepared for the busy time so you can really capitalise on your efforts. Check the answer phone message on your mobile and in the office and clear your inbox so you can deal with responses quickly.
You might also like...
Hi, I am looking out for a company profile for my Placement agency Can any one help me plz. Thanks, Priya
Pri
- 24-Jan-13 @ 7:56 AM