Join a Networking Group for Your Business Sector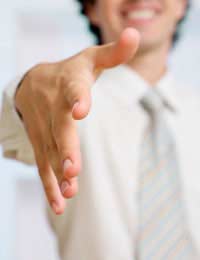 Whether you like it or not, networking is a major part of building a new business. In fact, if you don't like it, you'd better learn to, because you business cannot flourish without it. The skill to good networking is making it look natural - we've all seen those desperate types at corporate functions that thrust their business card at you and launch into their business spiel. You don't want to be one of those!
There are a number of ways to promote your business through networking and it is worth trying all of them, at least until you have found a sure-fire way that suits your character and your business.
Online Business Forums
There are a number of websites dedicated to promoting your business. Some ask you to pay a fee - don't join those ones! They are just money making schemes. There are plenty of free resources that make their money through advertising, so you do not need to pay to join, that are more focused on your business development needs. Sites for home business owners and entrepreneurs are also useful as they tend to be more focused to the issues you will face when setting up your own recruitment agency, rather than simply aiming to gain new clients as an employed person.
As a rule, you tend to have to register your details and write a profile about you and your business. Make it catchy and positive, with clear information about the type of business you run.
To make the most of the forums, get involved in the discussions and offer good advice. Gain a reputation as an expert in your field.
Social Networking Sites
The current trend in social networking sites such as MySpace and Facebook look set to continue, especially as old friends and colleagues are living all over the world. You can use these computer networking sites to your business advantage as long as you don't bore your friends by constantly posting about your agency. Some people use the 'update' feature to post jobs and employment opportunities, but this can look a little cheesy. Simply having your website details on your profile can create a good deal of traffic if you are active on the site.
Breakfast Networking Groups
Breakfast networking groups are one of those things that you either love or hate. The people who think they're great see the business potential, don't mind getting up at 6am to sit in a hotel restaurant for two hours and love talking about their business to other people who want to talk about their businesses. Those who don't breakfast networking groups shudder at the very thought of doing a presentation to people who really couldn't care less about your business.
There are a number of well-established international breakfast networking organisations available - you could attend a free introductory meeting before you decide whether to join as a full member. Many people who attend find that their business is well suited or unsuited to this method of networking - if your group has a number of potential clients you may find it useful, although they can be filled with lawyers and stationary supply companies.
You might also like...