Use Your Personal Network to Promote your Business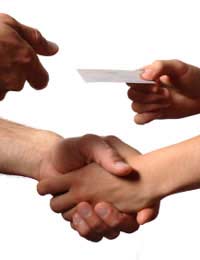 Nobody wants to be the person that hassles their friends in to buying something, like some kind of demented pyramid sales person. However, using your own personal network to help promote your recruitment business can be done in a way that doesn't offend or irritate anyone and helps you build your new small business into a blossoming organisation.
The good thing about networking for your recruitment agency is that it is a sector that affects pretty much everybody - we all need a job, want to help our friends and family find a job or need members of staff - so even if your personal network doesn't happen to have the perfect client just waiting to pay you top dollar for your excellent candidates, you are sure to know, or know of, plenty of people that will appreciate your services.
Networking with Friends
Don't forget that you are not selling double glazing, you're offering exciting new employment opportunities. Make sure your friends know what you are doing, what type of positions you recruit for and what careers advice services you can offer. Your friends are perhaps the best selling tool you have - it's not the same as your mum telling people you're great.
You may even decide to give them some sort of incentive to help you place candidates, especially if you feel as though you are asking a little too much of them, or that you are making lots of money on the back of your friends. It is common for recruitment agencies to offer referral incentives such as high street vouchers - just remember that the incentive you choose represents your business, too, so keep it classy.
Networking with Colleagues
Your ex-colleagues (now you've started your own recruitment agency!) are the perfect source of networking opportunities as they will probably be employed in the same industry. You need to be careful not to poach all their good vacancies, though, or get a reputation for having no qualms about going behind people's backs.
The best colleagues to speak to are those who have either left the last company you worked for (the one before you decided to set up your own agency) or those that you worked with in previous companies. That way, there is not such a direct competition and they may be more supportive. This will especially be the case if you are recruiting in a different sector to them, if they still work in recruitment.
If you have started a 'rec to rec' agency (a recruitment agency that recruits recruitment consultants for other recruitment agencies - phew!) then your colleagues are a valuable source of potential candidates for you. You will know their characters and working style, too, so you can present them positively to your clients.
Networking with your On-Line Community
If you are already a member of any forums or social networking sites, it is a great idea to promote your business on-line. Again, don't be too pushy, but people won't know what you offer unless you tell them.
You could also start a blog - either about launching your business, or recruitment in general, or even what you have for lunch each day. As long as you get traffic, represent your business positively and promote your company website, a blog can be a great way to keep your site fresh and informative.
You might also like...