Launching Your Recruitment Agency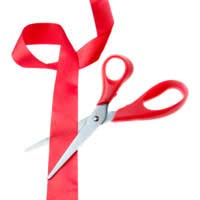 The launch of your new recruitment agency is a good time to celebrate. Use this opportunity to introduce your product and service to your target audience.
You can launch your employment business in many different ways, but make sure you do something. One of the key rules of marketing is to have a reason to contact your clients - what better reason than your launch?
You do not need to launch your business before you have started operating - many new businesses have a soft opening, with an official launch a month or two after the initial start. This gives you time to prepare your launch, see how things are going and get over an initial teething problems before what will hopefully be a busy period.
Preparation for your Recruitment Business Launch
There is a world of difference between a successful new business launch and a rather lacklustre one. Don't waste this wonderful marketing opportunity simply through a lack of preparation.
A good place to start is to decide on the date that you will officially launch your business. Choose a date that is not too near Christmas or the summer holidays.
Then decide what you can afford to spend. Launching your business does not need to be expensive, especially as you probably have had plenty of financial outlay already. You may be able to find a willing volunteer to help you - perhaps a local student on a work placement or a friend?
Marketing Ideas for your Recruitment Business Launch
Although you may not want to spend a fortune or do anything too wacky, there are plenty of ways you can launch your business and get some great PR for your new agency. You will probably already have arranged a website (it would be pretty crazy to start a new business without one), so make sure you have a banner with any special offers on it. You can have leaflets printed up that you send to old contacts or networking opportunities. The cheapest and most effective ways to promote your business is to get mentioned in newspapers, magazines and websites. Write a really snappy press release and send it to your local paper, trade press relevant to both your recruitment sector and HR.
Have a Launch Party
If you have a high street office, why not have an open day with free wine and snacks? Have the doors open and make it clear that everyone is welcome. Have plenty of your employment vacancies on show for potential candidates to see - you could print up a list of 'hot jobs' and have a pile on a table. You could try the same technique to advertise your best candidates, although be careful not to include any identifiable personal details, especially if you are in a small town.
Don't buy the cheapest wine and the tackiest snacks though! You may save a few pounds but it will not reflect well on your business. Perhaps some chilled cava and some tapas, instead of own-brand plonk and cheesy crisps.
Special Offers
This is a good time to have a special offer as it is understood that it is because you are launching your business, rather than because you are desperate! Think about offering a 'paid referral' to candidates, or offering a half day free to clients for any temps. This helps them say yes to a temp contract which invariably continues.
You might also like...