What Sales Targets to Set for My Recruitment Staff?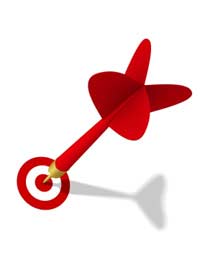 Q.
I am thinking about joining two others in starting a recuitment business but I have insufficient experience of setting targets for the sales people. Could you please advise, using examples if possible?
(E.G, 18 May 2009)

A.
First up, I think it would be a good idea to see what recruitment experience your two potential partners have, as it's a tricky enough business to set up with all the knowledge in the world.
However, there's no reason to be negative because of all the knowledge not to have when starting up a recruitment business, target setting for sales people is not the most important. It's far more important to be good with people, naturally inquisitive and easy to do business with.
That said, you've asked how to set targets for sales people, so I would suggest that you first appreciate what is achievable. You need to know what their basic salary is for starters, as that will guide you to what they need to be bringing in to the company to 'earn their keep'. Most high billers will be wanting a decent basic salary with a fair cut of profits of their placements - there's no point paying your recruitment consultants a thirty grand basic if they only place one person a month.
Next, you need to think about your industry and its potential. The banking sector is not enjoying its most buoyant time, recruitment-wise (or any other wise, but that's a different matter), so the high-rollers here will be seeing their placement figures drop. Retail is having a similar slow time. If your recruitment agency is working in a sector that's upbeat, you're more likely to be able to set higher targets.
In terms of offering you specific examples, I must drag up that classic recruitment phrase of 'it's a numbers game'. It's sadly true, unless you're in a niche headhunting sector, that the more cold calls you make, the more leads you gain, the more interviews you achieve and the more placements you win. As a rule, ten calls equals one interview. Three interviews equals one second interview and two second interviews equal one placement. Then one in four placements results in some money being returned or the candidate dropping out before they've even started.
Many recruitment companies like to promote the fact that they don't just fire out CVs willy-nilly, which of course is a good thing, so be prepared to set out your stall before relying solely on numbers.
You might also like...