Resigning From Your Current Recruitment Role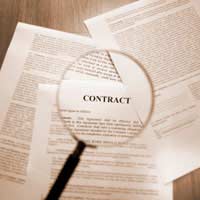 Many of us simply sign our employment contracts when we start a new job – we'd be shelling out a small fortune if we had lawyers checking over every piece of paper we sign.
However, if you decide to start your own recruitment business and you are currently in employment with a recruitment agency, it is worth spending some time going through your employment contract before you resign.
The Problem Clause
The clause in the contracts of most recruitment consultants employment contract that can a)cause all the trouble and b)cost you an arm and a leg as soon as you start making any money from your own recruitment agency is the one about working in a similar field.
This clause may seem pretty innocuous when you look at your agreement, but if you try to understand the implications of it, you can say goodbye to utilising all those great clients and candidates you have worked so hard to build up.
The clause will usually say something like "the employee may not operate in the same sector for a period of one year and a geographical distance of twelve miles." This same restriction can be worded in many different ways, but you get the idea – the restriction is on what you can do, how long you can't do it for and where you can't do it.
Many recruitment entrepreneurs have been burnt by this clause as they set up their own agencies to directly compete with their old employers. The old employer then throws the book at them – with a signed employee contract to back them up all the way to the courts if necessary – and they tend to agree to take a certain percentage of your placement fees for the twelve months instead. As you can imagine, this is not the best way to get your fledgling business off the ground.
So, in order to avoid this harrowing possibility, this is what you need to do.
Check it Out
First, check through your employment contract and see what clause you have – newer contracts may include operating a web-based business in the same field as well as a geographical restriction. See what particular details you have signed and work out what clauses you may have an issue with. There is also likely to be a clause that says you cannot take any valuable information with you, such as clients and candidates details. The savvy among you will have burnt off a CD with all that way before you hand in your notice, but that is not to say it is totally above board.
Look at the Detail
Second, check the particulars of the clauses. So, if it says you cannot operate a new business, or indeed work for a competitor, within a certain distance, make sure your registered business address is outside of this restriction.
Be Clever
Third, be careful not to blatantly contact you old clients and candidates to say you are setting up your own business – use an alias if needed.
When you have made sure that you are operating inside of the restrictions of your employment contract, you can hand in your notice, safe in the knowledge that your new business will be able to flourish. Of course, there is no need to tell your employer that you plan to set up your own agency, but then you don't get that lovely smug feeling!
You might also like...