Assess Local Competition Before Starting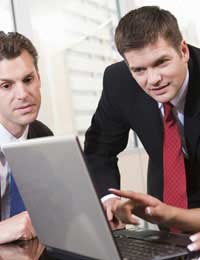 It is important to assess your potential local business competition before you set up your own recruitment agency as they can have a major impact on your success. Unlike other businesses, such as coffee shops or banks, that seem to prefer and even flourish when situated close to a competitor, recruitment agencies tend to do better when they stand alone.
However, it is necessary to distinguish what geographical area you intend to set up in first, as some major UK cities have a number of recruitment agencies all together along the high street. So, unless you are planning to open your own high street agency in one of the cities or large towns in the UK (which would be prohibitively expensive, unless you had considerable financial backing), this article is for you.
Be Aware
The internet has allowed many people to set up their own businesses while working from home, which gives them the opportunity to build their business without the initial expense of an office. Recruitment easily lends itself as an industry that can flourish on the internet; however you do need to be aware that candidates and clients will expect you to have some physical presence. This requirement means that your geographical location will have an impact on what type of service you can offer and what facilities you will have available to meet and greet your clients and candidates.
Research Local and Internet Competition
In order to assess your local competition, you need to be aware that recruitment agencies will be operating using the internet as well as your local area, so simply looking through the Yellow Pages, or walking up and down your local high street will not give you a true picture of what competitors you have. You will need to conduct comprehensive research of local businesses – your local newspaper or business directory is a good place to start and you can get great information from your nearest Business Link office. The second area of research will be completed on the internet – look for business that offer recruitment services all around your local area, including small niche agencies and the high street agencies with a large online presence, such as Reed and Hays. There are also a number of online only agencies that have an excellent coverage of UK towns and cities, although very few vacancies outside of major areas.
Research Recruitment Sectors
Once you have established what recruitment agencies operate from your geographical location, you will need to research what agencies offer the type of recruitment you aim to specialise in. See what other people are doing and work out what you can do better – there is no point offering a more expensive service for the same area of recruitment if someone else is already doing it more successfully. That is not to say that you need to be the cheapest – charging a high yet competitive recruitment fee structure that can be backed up with an excellent service is a great business – but you cannot charge more for doing less.
You might also like...