Start a Recruitment Agency with a Partner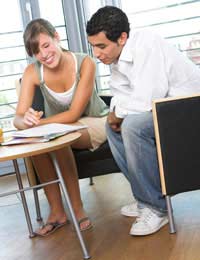 It is a popular choice to set up a recruitment agency with a colleague, especially because you will have already worked together and understand each other's strengths and weaknesses. Also, many recruitment consultants find that, in working in their current jobs, they are frustrated with how the business is run and are keen to branch out on their own.
Understand Each Other's Strengths and Weaknesses
Do not think that they person at work whose company you most enjoy is the person that you are most suited to starting a business with. Yes, you need to get on well and be able to talk honestly to each other, but the truth is you do not need to be the best of friends. Your friendship does need to be able to sustain you through some difficult times ahead, though, so do not start a business with someone you don't like!
Take some time to understand you own strengths and weaknesses to be able to identify what skills you are bringing to the business. Think about how you act in your current environment – are you particularly good at developing new business on the phone but hate client visits? Or do you enjoy keeping accurate paperwork but prefer not to deal with the financial decisions? Whatever your core skills are, it is best to find a colleague that balances you.
If you are thinking about setting up a recruitment business with your partner, you both need to understand that your relationship may take a back seat while you are getting your business up and running. Make some ground rules about what you will and wont talk about in work time, or how you will spend your precious weekends.
What Is Your Motivation?
In order to have a solid base on which to grow your recruitment business with your colleague or partner, you will need to talk about what you hope to achieve. There is no point starting a business with someone else if you have totally different life goals as you will be pulling in opposite directions.
You will need to get to the bottom of what motivates you – money, success, making a difference to other people – and work out how your new business can offer you that.
Do You Have the Same Goals?
Once you have established that your partner or colleague has the suitable skills to balance your own, you will need to know if your life goals are compatible. You need to talk about whether you hope to earn enough to have a nice life for you and your family, or if they have the dream of establishing a multi-national agency. Discuss what type of lifestyle you want; what hours you are prepared to put in to make the business a success.
Draw Up a Legal Contract
Once you have talked through all the issues that will help you decide who the best person is for your recruitment business, make sure you get some legal advice about where you stand if anything goes wrong. It is far better to get something, however basic, in place before the business grows or it will be far harder if one of you decides to leave or change career.
Bear in mind that your personal situation may change, or the business may be a terrific success. Put a legal agreement in place before any issues arise and you will avoid a lot of potential heartache and expense.
You might also like...