Importance of Good Staff Training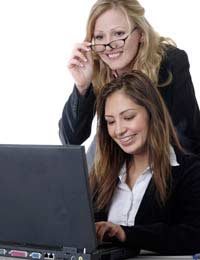 Now that you have established your own recruitment agency, you will need to think about all those aspects of starting a business that you didn't take any notice of as an employee. Details such as having the correct computer software, or health and safety, or paying temps on time.
One such detail is the training of your staff – your consultants will only be as good as their training. Even if you have recruited experienced consultants, you will need to train them in the ways you want your business to be represented. Perhaps their previous agency had a very different approach to sending out unsolicited CVs, for example and you prefer to operate a more targeted, responsible approach.
The best way to find out what staff training is required is to write a staff training document that deals with the recruitment issues that are important to you and how you want your business to be run. After all, you are the boss now, so while you want your staff to feel happy and fulfilled in their jobs, you need to establish your credibility as a boss by making fair rules to be adhered to.
Writing a Staff Training Document
Before you start operating your recruitment business and certainly before you take on any consultants, take some time to write a staff training document. If you don't establish a clear set of goals, expectations and behavioural requirements, your business will not develop in the most constructive, commercial manner. You need to have a clear set of goals to be able to work towards or each day will just pass. What are your aims? What type of agency do you want to build? What type of clients are you trying to appeal to? What gaps do you have in your experience or business network that new consultants may be able to fill? If you ask yourself these questions, and many others about your business, then you can plan a strategic development plan for yourself and your staff.
Now you have this information, write a staff training document. Don't make it too wordy, preachy or patronising. Just clear, informative and inspiring. Give each new employee a copy. By giving your new consultants an education in good staff training, your staff development and productivity will soar.
Have Regular Training Sessions
As a small business owner you need to keep your services and products fresh and targeted. In order to maximise your market share, increase the results of your advertising and gain new business, your staff need to be able to represent your business exactly as you want. Good staff development sessions will allow you to see any gaps in their knowledge and skills. Tailor your training to the new products and services you are launching, or the feedback you have had from your clients.
Involve your staff in your training needs – talk to them about what they feel they are missing, what they would like to develop. That way, they will not feel 'told off' or patronised, rather that you have their personal and professional development in mind.
You might also like...