Discuss New Business with a Bank Manager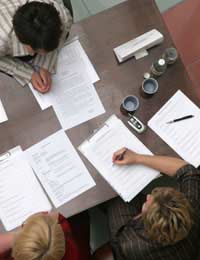 When you have decided to take the plunge and launch your own recruitment agency, a great place to start your business and funding research is with your bank manager. Many high street banks now have their own business startup advisor, fully trained in the latest advice small business entrepreneurs need.
Be Prepared
You do not have to use your own personal bank for your business banking, especially if there is a business bank manager in tune with your way of thinking at another local bank, or if another bank has better business startup incentives. It is common for a period of free business banking or legal advice if you sign up to a startup loan or open a new business account. It is worth baring in mind that it is advantageous to shop around regarding the terms of your business bank account as the charges can vary wildly - you can be charged for each cheque you write, each online transfer …it all adds up, especially in the early days when you start a business and cash flow is a very live issue.
Think about what business banking service you need as there is no point paying for some flashy account if you are not going to make use of it. See what benefits are available that you will utilise. Ask other local business owners who they bank with and what their experience has been like.
Initial Appointment
Make an appointment with the small business startup manager at the local branch of the bank you believe is most suited to you - if it turns out not to be you do not have to open an account. Take along your business plan and any other information relating to your business banking requirements.
First impressions count in both directions, so look smart and arrive on time. You will quickly be able to tell if the business banking person is suited to you - if they seem on your wavelength and genuinely interested in your business, rather than simply trying to see you their latest products.
Choosing Your Business Banking Options
You do not need to commit to opening a business banking account at your initial appointment. Take away the information and go through it in detail in your own time. Don't forget that banks are businesses - staff are now trained to sell their products, rather than advise on what best suits the customer. Don't be pushed into something you don't need - anything you borrow will need to be paid back, with interest. A bank is simply a shop that sells money - they're not giving you anything.
Asking For Support
Once you have found a business banking option that suits your careers business, don't be afraid to use it. If you find yourself needing a short term loan, or are waiting for a client to pay, speak to your bank manager, don't let it get on top of you. They can often be very helpful as long as they are kept informed of your situation - if you just leave it until you are at the end of your overdraft and maxed out on your credit cards, they may not be so sympathetic.
Arrange a meeting with your startup banking advisor and talk through your current circumstances. Be honest and practical and you will be in the best situation to ride the financial storms that are inevitable with a new recruitment business.
You might also like...
Of course, in the current economic climate, finding a bank that's willing to back you with a loan or credit is going to be very difficult, most especially for a new venture. The better capitalised you are going in, the greater the chance of finding a bank that will work with you. If you don't need the bank's money for a start-up, then really, the choice is completely yours – let them compete for your business.
Chris
- 3-Oct-12 @ 12:41 PM