Get Consultants to Convey the Right Business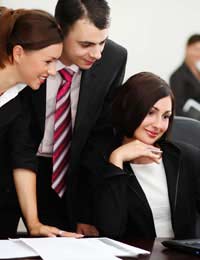 How your recruitment consultants behave in the workplace and on client visits is a key part in how your business is perceived. In order to maximise the positive reputation of your business, you will need to educate and train your staff in how you want your business represented.
You and your staff are the living, breathing marketing tools of your business – it doesn't matter how much money you invest in your website or corporate literature if your staff are surly, unfriendly or unprofessional.
Decide on your Corporate Message
One of the most successful marketing campaigns in recent years as been the launch of Innocent smoothies – now voted one of the best launches in Campaign magazine. A key reason this was so successful is that the ethos of the company was so clearly evident, a very appealing attitude and a fun, ethical product. This meant that staff, customers and potential customers were easily able to buy into the brand.
By having a clearly defined corporate message, or vision, you can make sure that all your corporate communication, including the verbal communication of your recruitment consultants, matches the image you want to portray.
You need to utilise this strategy with the launch of your recruitment business. Think about what you stand for, how you want to be perceived by your customers and what type of brand you want to be.
What Do You Stand For?
If you want your recruitment agency to be the type of small business that is considered a high quality, niche product, you do not want to have pink as your corporate colour and the phone answered with a high-pitched 'Hiya!'
Similarly, if you are launching a high street temps agency for the construction industry, you do not want your offices to be all dark green leather and mahogany.
Think about your market, your skills, your competitors – everything that will come together to make your recruitment agency what it is. Now is a good time to decide on your values in order to educate your staff right from the beginning.
How Do You Want To Be Perceived By Your Customers?
Once you have settled on your corporate message and your values, think about how you want to be perceived by your customers. This will sit very closely with your corporate message, but will offer you and your consultants an additional focus. If you want to be seen as the company that is always able to find a temp at the last minute, your image needs to be very different to a company that prides itself on a bespoke headhunting service.
Training Your Consultants to Represent Your Brand
Now that you have your branding clear, you need to train and educate your staff to convey the brand in the correct manner at all times. As you have identified your target market, your training can be appropriate – think about how you answer the phone, use of correct spelling and grammar in letters and emails and the ways in which your consultants conduct themselves at client visits. Offer on-going training to keep skills and motivation fresh – negative recruitment consultants do not only stop making placements but they sap the energy out of the rest of your staff, too.
You might also like...