Standing Out at Networking Events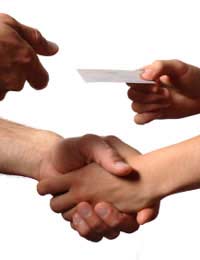 It's all too easy falling into the trap of thinking that just because you're attending a networking function that it's good for business. The fact is, it can be a real wasted night if you don't utilise the opportunity, and you can actually do more harm than good if you do not make sure you stand out.
Networking is one of those things that you either love or you loathe. Some people are naturally good at talking to people, but that doesn't necessarily mean that they are good at networking – it takes a certain type of skill to be able to 'sell' to people without looking cheesy or desperate!
Here are a few tips for to make sure that you stand out at networking functions without coming across as unsuccessful or grasping.
Prepare Your Pitch
There's no point wasting time at networking functions unless you are going to talk about your business – after all, that is why everyone is there. The skill is in talking about your business without it looking like you're talking about your business! This is where preparing your pitch comes in; take the time to think about the aspects of your business that help you stand out amongst your competitors and plan how you can talk about them. A good comparison is to think about celebrities on the talk show circuit; they always use the same anecdotes that show them in a suitable light on every show!
Be Interesting
You'll never gain any business from a networking event if you just regurgitate the same old boring tales though, so you need to present them in a way that shows you can sparkle! If needed, practice your pitch so that it doesn't sound like a pitch, and make sure you are able to be engaging and entertaining. That doesn't mean to say that you have to have some stand up routine prepared, but that you have to be good company for people to remember you positively.
Be Interested
However good your pitch is, if you just talk about yourself and don't ask questions you will not succeed at networking events. You have to get the balance right between presenting yourself and listening to other people, and the best way to do this is to introduce yourself to people you want to connect with and then ask them a question about their business. This then neatly moves on to you being able to say what you do. Be careful not to get into the role of 'interviewer' and just let your companion talk about themselves all night – they won't remember you and it will be a waste of effort.
Follow Up Connections
Don't worry that asking for business cards looks cheesy – everyone does it! It can be tempting to spend the evening typing people's details into your phone, but getting a good old fashioned business card is still the easiest way to not let the pace of the conversation slide.
It's really worth following up any contacts you make, but be careful not to go for the hard sell here. Unless you spoke about a specific role or brief, you can use Twitter or email to reconnect; say it was nice to meet and that you'd like to follow up your conversation at some point. Perhaps suggest meeting for a coffee or to visit their office to discuss a potential role.
You might also like...