Utilising Good Managers in Your Recruitment Agency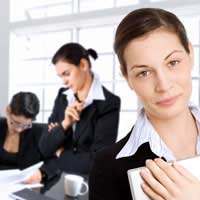 The people that you choose to employ at your recruitment agency will represent your business. You need to hire the best people you can afford because they will enable your business to grow. Once you have reached the point when you need to take on additional staff, you need to carefully assess who you employ and how you manage them.
A good manager is worth their weight in gold. Don't forget that as recruitment is usually a commission based industry, once you have paid your employees their basic salary, the more they earn the more you make. So by recruiting 'high billers' – recruitment consultants that have a history of making regular placements – you will be able to build your business on their success.
This is probably the reason you wanted to set up your own recruitment business in the first place, as you will have experienced this from the other direction – you were probably a high biller for your previous employment in a recruitment agency – so now is the time to benefit!
Finding Good Managers
You may have your own personal network of contacts from when you were employment in the recruitment sector – think about who you know that was a high biller, with a good attitude and a hunger to succeed. You may not be able to offer them the perks of a bigger agency at first, but you can offer a higher percentage of their placements and temporary jobs.
You can also find good managers by appointing a 'rec to rec' company (recruitment agency that recruits for recruitment consultants) or a human resources agency. Using a headhunting firm is the most expensive option, as you tend to have to offer a higher salary and the headhunter will charge a fee, however, this can be a good way to get the very best candidates.
Managing Good Managers
Once you have recruited a manager for your recruitment agency, you need to look after them. By ensuring that they have good management from you, you will be able to get the very best from your high potential recruit. Make your expectations clear – if you plan to continue working as a consultant, they will need to know that you will be in the office most of the time. If you plan to be a bit more hands off and let your manager deal with the day to day issues of your agency, tell them. This may mean that they do not do what they are best at for much of the time – making placements – which could be a costly decision.
Keeping Good Managers
You need to keep reassessing the situation with a good manager – you cannot think that they will stay forever unless you improve their offer and keep them satisfied. Of course, neither do you want to be at their mercy, so do not allow yourself to be held to ransom by unfair demands for greater percentages of placements or an increased basic salary. Your leadership needs to be clear, although you must offer as much as you are able.
Increased responsibility should come with increased money, although there are other ways to maintain the situation, such as paying for training or offering a greater financial package for a certain number of placements, that way you both benefit.
You might also like...