I Fit My Recruitment Business Around Having a Family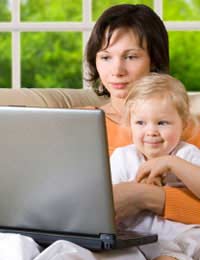 Laura Fletcher, 35, from Lytham St Annes proves that you don't need to spend ten hours a day tied to your desk to create a successful business. She told us how she has managed to achieve a great work/life balance.
Trainee with a Major Agency
"I started my career as a trainee recruitment consultant in Manchester with a major recruitment group, and I learnt so much about the industry. I initially specialised in financial recruitment, working with the banking sector, and I gained a lot of knowledge as well as some excellent clients," Laura explained.
"After six years with the same company, I felt like I was the oldest recruitment consultant there! I'd made some decent money and had already bought a smart flat in Manchester, so when I met and married my husband we were able to sell that flat and buy a larger house. After a couple of years, I decided that I wanted to stay in recruitment but to be my own boss as I was getting increasingly frustrated with the office politics and the expectation of 'work hard, play hard' which didn't really complement married life, especially when we had our twins!"
Laura continued, "Perhaps the main reason I was ready to start my own business was that I realised that for every pound I was earning in commission, I was earning the company three pounds. That's fine for a while, when you're building up your client base and gaining experience, but it's galling once you realise you could be keeping that yourself!"
New Opportunity
Laura decided to start her own recruitment business using the contacts she had in the recruitment sector in the North West. She said, "When I took my maternity leave I found it especially difficult to fit back into 'work mode'. I was happy to work, but it was the office banter and necessity to go for drinks with colleagues after work that was tricky – I just wanted to do my job as effectively as possible and then go home to my babies! Once I'd made the decision to leave, I set about making a detailed business plan, which really helped me to see just how few placements I'd need to make to take home the same amount of money. This really spurred me on and I knew I could do it."
Laura set up her own recruitment business using her spare room as an office. Rather than spend money on renting office space, Laura met potential candidates in hotel lobbies and coffee shops, and even taking clients out for coffee or lunch was far cheaper than hiring an office. With the help of her mother and mother in law looking after the children one day a week each, Laura was able to steadily build her business while working three days a week.
She added, "It made me realise how many hours can be wasted in the office – now I can interview candidates in the morning and do business development in the afternoon, with plenty of family time in the evening. I have a smartphone so I'm always contactable even on the days I'm looking after the children, and I do practical things like my supermarket shopping online and cooking in batches. My work/life balance is so much better than before and I have the great feeling of being my own boss."
You might also like...
Hi Laura, What an inspiration you are. I would like to set up a recruitment agency and would greatly appreciate your advice or consultation. Is there any way I can get in touch by phone or emails? Thank you, Flo
Flossie
- 13-Jun-13 @ 12:05 AM
Dear Laura, I would like to set up nursing recruitment agency and would greatly appreciate your advice or consultation. Is there any possibility to get in touch by phone or emails? Thank you Gita
Gita
- 27-Aug-12 @ 10:54 PM
I would want open my recruitment agency
Shabs
- 10-Jun-12 @ 8:08 PM