My Recruitment Agency Recruited Me! A Case Study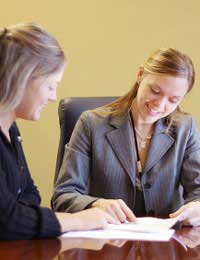 When Olivia Williams went for her initial interview with a new recruitment agency, she wasn't expecting it to be the start of a totally different career!
There is a growing trend for recruitment agencies to recruit people that have gained experience in the particular field in which they will be recruiting for, rather than the previous trend for finding more sales-orientated consultants that were trained in the market sector. This means that recruitment agencies are always on the look-out for potential new consultants to join them when they come to register as candidates for work.
A Positive Registration Interview
"I had my registration appointment with the recruitment agency because I had seen a vacancy for a marketing manager that I was keen to be considered for. During the interview I was asked lots of questions about recruitment, sales, what motivated me…that sort of thing. I was a bit confused because it didn't seem that relevant to the advert I had replied to, but at the end the consultant explained that they were looking to take on a new consultant and would I like to talk to the boss?"
Olivia agreed to speak to the boss of the recruitment agency in more detail. Although she had not considered a job as a recruitment consultant, she knew that the recruitment agency had an excellent reputation within the industry and was keen to understand the role better.
Meeting the Team
She continued, "Luckily, the boss was available to see me later that morning, so I went for a coffee with the consultant that interviewed me to learn more about the company. She was very honest and explained that they were given extra commission if they found a suitable recruitment consultant, but she also said that she was earning such good commission through her own recruitment desk that that was not her real concern. I learnt all about the job and felt well prepared before I went to speak to the boss."
Learning About the Job at Second Interview
During her meeting with the owner of the recruitment agency, Olivia learnt all about what the job entailed, including building a client base, interviewing candidates, delivering marketing campaigns and general networking. Having worked as a marketing assistant for some time, she felt that this was a good way to use her skills and potentially earn far more. Also, Olivia was aware that it would help her build her own list of clients if she decided to find a job for herself in the marketing sector further down the line.
Olivia concluded, "After a second interview and time to think about the opportunity, I decided to take the job as recruitment consultant. The job sounded varied and exciting with the chance to stay in the industry and continue to build my contacts. I've now been working here for six months and I can honestly say that no two days are the same! I've learnt so much about the industry and I know that I have added value to my CV."
You might also like...