Specialist Design Recruitment Consultancy: A Case Study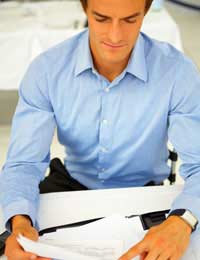 After a number of years working as a successful recruitment consultant in central London, Stuart Baker, 32, decided he wanted to have more control over his career.
There were two key reasons behind his decision to start his own recruitment agency. Having earned excellent commission, Stuart was well aware of the amount of money he was earning his employers and was keen to keep more for himself! He was also growing frustrated about the strict targets he needed to adhere to, rather than being able to develop his clients in what he felt was the most appropriate and effective manner.
Stuart told us, "I started my career as a graduate trainee for a high street recruitment agency on their graphic design desk, and then I got headhunted by a specialist graphic design recruitment agency. I totally loved the buzz of the industry as I'd studied graphic design at university. The job was perfect for me – I was quickly earning good money and I was able to build a great rapport with clients and candidates because of my understanding of the industry."
Strong Client Base
With six years of experience in the graphic design recruitment industry, Stuart had built up an excellent client base and a terrific reputation for being the best in his field. He was regularly asked by design magazines to comment on recruitment issues affecting the London design scene and was invited to industry events.
Stuart continued, "I started to feel as though I was not able to make the most of these exciting opportunities because I always had to run ideas past my boss. I was aware that I was far and away his highest biller, but my ideas for building the business or new initiatives were rarely listened to and certainly not acted on. For a while this was OK because I was still making good commission, but I knew I wouldn't be able to hang on for ever as I wanted more freedom."
Great Opportunity
The opportunity for Stuart to gain the freedom he craved came when he had a meeting with a client. Stuart had worked with this client for a few years and had established a great working relationship. The client requested a number of freelance and permanent staff, but at a rate below the agency minimum.
Stuart explained, "I told the client that I would find a solution. I went back to my boss and, just as I expected, he said the low rate was not possible. I said that I felt it was too good an opportunity to be missed and that I wanted to follow it up. After a little legal tussle, we agreed a way to do it and I quickly set up my own specialist design recruitment agency with this client as my very first contract."
Slowly Building
Stuart found that his industry contacts and solid reputation meant that he was able to win new business relatively quickly. Initially, he was working alone from a home office, which kept his overheads low, allowing him to take time to reconnect with clients and not rush candidates through the initial interview stages.
Stuart concluded, "I needed to be fair to my old employer, too, so I was careful not to step on any toes. I spent the majority of the first three months talking to previous clients, going to industry events and building my client base, by which time I was in a position to launch my website. Even though I charge a lower fee than many other specialist design recruitment agencies and I tend to take far longer to make placements, I am earning lots more because I get to keep most of it (the taxman takes the rest!) and I feel far more fulfilled as I can run my own business my own way!"
You might also like...