A Headhunting Business from My Spare Room: A Case Study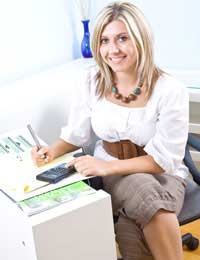 Eleanor Parker, 29, started working as a recruitment consultant after she joined a graduate training scheme for a major high street recruitment agency. Although it was not her dream job, with many of her friends from university moving to London to start work, she was keen to join them.
Fell into Recruitment
Eleanor explained, "I'm rather embarrassed to admit that I hadn't a clue what I wanted to do with my life. I'd done a degree in Philosophy which, while being rather interesting, did not help me at all in deciding on a career path. I was quite jealous of friends that knew what they want to do and could follow their passion, so I'd spend ages talking to them about what made them tick to see if it would help me. In the end, I just applied for lots of graduate training schemes, like an events management company, an advertising agency, the recruitment one and a big retail chain. I was asked for a few interviews and the recruitment agency was the first company to offer me a second interview and then a job. So I said yes!"
Once Eleanor had moved to London and started working for the recruitment agency, she soon realised that she was not really one of their star players, even though she was regularly hitting her targets.
Square Peg in a Round Hole
She continued, "I could tell that I didn't have the real determination and cut-throat dedication that some of my colleagues had – the ones that were really getting exceptional results were very different characters to me and I didn't feel as though I fitted in at all. But I really enjoyed large elements of the job – the interviewing, the client meetings and the sense of satisfaction of getting someone their ideal job really was great. I found that I was carrying this through to my social life too – I'd always be the one asking people about their dream jobs and advising them on how to make it happen. People kept saying to me that I should start my own little agency rather than kept feeling out of place."
This idea stayed with Eleanor, even though she did not feel ready to leave the security of a full time job. The possibility to start her own agency came when the company she worked for was bought out by another agency and some consultants were given the option of voluntary redundancy.
Too Good to Miss
Eleanor said, "I grabbed it with both hands! I had managed to save some money and the redundancy pay meant that I had my bills covered for six months. My parents also offered to help if I needed, but I really didn't want to take them up on it. I started by calling up people in my own personal network to say that I was now running my own bespoke headhunting business, with no consultants, no targets and no hard sell. I just said that I was passionate about matching people and companies together and to call me if they needed anyone. The fact that they knew my background meant that they trusted me and because I was working from my spare room meant that I didn't need to make megabucks. This allowed me to take time to make my first placement and stopped me from being desperate."
"I wanted to have a very small, very customised headhunting business that built up mutually-beneficial relationships, rather than great big targets that rewarded shoving people into jobs that didn't suit them just to make the fee."
You might also like...