Starting a Recruitment Business Boosted My Confidence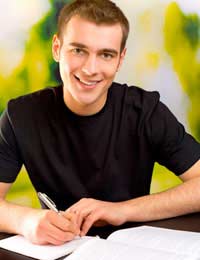 Recruitment is well known as being a great career choice for dynamic graduates that want to work hard, play hard and earn good money. But it can be a real struggle for people that find that type of working environment a bit overwhelming.
That is what happened to Ben Mellor, 29, from Portsmouth. After graduating, Ben started working for a large recruitment company's Portsmouth office and found that the actual role didn't really match up to what was promised at the initial interview.
Ben explained, "After I graduated in English Literature I wasn't really sure what I wanted to do, so I applied to loads of graduate training schemes and other graduate jobs. I was offered a couple of interviews and, as the recruitment job had the best starting salary, I took it. It appealed to me because the interviewer told me that it was about listening to people and building relationships with clients and candidates, which suited my reserved character."
The Wrong Match
But when Ben started the job, he found that it was far more focused on money and targets than he had been lead to believe. He continued, "It was really difficult because I did really enjoy the interviewing part, and even the sales part once I knew that I had the perfect candidate for a role. But what I couldn't do was push someone into a job just so I would earn commission and meet my targets – all of my colleagues were real 'ice to Eskimos' types and I just didn't fit in at all."
Although Ben was regularly hitting his targets and was considered successful by his employers, he was not enjoying his work and was keen to make a change. He continued, "I just didn't fit in to the company, but as I was hitting my targets they wanted to keep me. I knew I could be happier doing recruitment my own way, so I decided to start my own niche agency working from home."
Ben started a recruitment agency that utilised his experience and contacts but was less focused on the 'hard sell' element of recruitment and more dedicated to matching clients and candidates. He added, "I knew that I could charge a competitive fee and still make more money as I was keeping practically all the profit myself. As soon as I handed in my notice and started work in my spare room I was so much happier. Even though the actual job wasn't all that different, how I approached it and how I felt about myself was completely different."
Making a Successful Business
Ben did have to deal with some complications with his previous employer, and was unable to approach certain clients for the first six months. However, he had made sure he took important information with him before he handed in his notice and so was able to ride out the first six months. Ben concluded, "Now I focus entirely on the best match of people, and I take my time interviewing people and only ever send their details to clients when I know they'll be happy. I'm really proud to say that loads of my clients only use me for recruitment and I often get placements from speculative applications as my opinion is trusted. I can honestly say I love recruitment now!"
You might also like...