What I Learnt in My First Year: A Case Study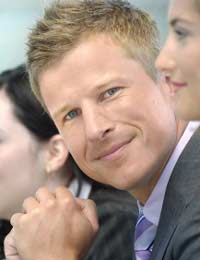 When Jeremy Michaels, 36, started his own recruitment business last year, he didn't know what he was letting himself in for!
Although Jeremy had had a successful recruitment career, he was growing tired of the fast pace of the financial recruitment industry and was rather disillusioned with the forcefulness in which he was pushed to work to targets.
Taking Time to Understand What You Want
Jeremy explained, "There were so many parts of my job that I really enjoyed that it took me a long time to decide to leave. It wasn't as though I couldn't wait to get away – I worked with some great people and had built up a really good client base. I loved interviewing candidates and making positive matches with suitable clients, then seeing the interview process through to a profitable placement. Of course, like with many recruitment consultants that go off on their own, I was also increasingly annoyed at the little commission I earned compared to the fees I earned the company!"
Jeremy took time to think about what he wanted to do. He didn't need to rush the decision and he purposely did not discuss his thoughts with any of his colleagues as there can be a lot of water cooler gossip in a recruitment agency. He was strategic in his thoughts; taking time to analyse what parts of is job he did and didn't like.
Jeremy continued, "I knew that I really enjoyed interviewing candidates; finding out what made them tick and getting to the bottom of their career aspirations. I couldn't bare just shoving people in jobs so that I would look good and make a quick buck – I loved finding people jobs and companies that really suited them and offered a long-term career."
Understand Your Strengths and Weaknesses
The key to finding happiness in your work is to know both what you do and do not enjoy; what makes the most of your skills and aspirations and what makes you feel like you are enduring your working life. Jeremy knew that he did not want to have to 'encourage' candidates to take a job that he knew they were not right for, just because they had been offered the position by the client.
Jeremy explained, "Starting my own recruitment business was a revelation – I realised that you can still make good money while offering a high quality service. You don't have to take every placement or push every fee to the maximum. I found that I gained a really great reputation as a 'moral' recruitment consultancy – both candidates and clients came to me and said they really appreciated the fact that I put their long term happiness first. This, of course, was also good for business and, as I did not have to give the lion's share of my commission away, I was still making a very good living on far fewer placements."
There are clearly recruitment agencies that do not push candidates into the wrong jobs, but, rather like estate agents and traffic wardens, they do not always have the best reputation. Jeremy learnt that he could use his skills to work within the recruitment industry in way that he was comfortable with and continued to earn him a great living.
You might also like...
Hello, the material on your website is really helpful encourage me to take right step towards a new start of my business career. The case studies are very motivational and really helpful.I hope you people have more good stuff which can help me in starting my new recruitment business. Waiting for reply. Regards Sumit
sam
- 29-Jun-14 @ 6:40 AM